N E W S L E T T E R
13th EDITION, May 2003
Insulin Pumpers Canada - Nova Scotia Division

Do You Think You Might Like To Join Us At One Of Our Informal Meetings?
If the answer to any of the following questions is a 'Yes', you may benefit from joining us for an afternoon and making connections with people just like you:)
Would you like to improve your quality of life or that of your child?

Are you interested in finding out more about insulin pump therapy?

Are you wondering what alternatives are available to you?

Are you interested in meeting and speaking with *real* pumpers?

Are you wondering if insulin pumps are too good to be true?

Are you interested in seeing a pump *in action*?

Are you interested in hearing the pros and cons of pumping?

Are you wondering if Insulin Pump Therapy is for you?

Are you ready to start pumping?

Our gatherings are open to people interested in insulin pump therapy for themselves or their child, and adults and children who are presently pumping. No membership or prior registration is required.
The first part of each meeting (1:00-2:30pm)consists of introductions, discussion on the 'topic of the day', 'what's new', and roundtable discussion if we have time.
We have a break from 2:30-2:45 with refreshments and fresh fruit, veggies, crackers and diet pop provided. There is a Tim Hortons in the complex so you can satisfy your coffee/tea urge too.
Following the break, a guest speaker(s) joins us from 2:45-4:00pm. See below for information on dates of upcoming meetings & guest speakers.
The meeting 'officially' ends at 4pm, but for people who may need more time to *connect* we will not push you out the door:) Although we may have to leave the meeting room by 4:30, feel free to continue your conversation on benches outside the room, or in the relaxing atmosphere of the viewing area overlooking the pools where you can have anything from tea or coffee, to fast food.
Directions To The Sackville Sport Stadium

**U P D A TE**May 29/03
Last Meeting Until September 2003 ! ! ! !
Date: Sunday, June 15, 2003
Time: 1:00pm - 4:00 pm
Place: LDRA Room of the Sackville Sports Stadium, 409 Glendale Drive, Lower Sackville, Nova Scotia
Please Note The Following Is A Change In Format:
From 1:00 - 2:00 pm
Lucinda Pigdon and Shelly Walker of Origin BioMedicinals will be introducing us to Neuragen RL, a Natural Treatment for Neuropathic Pain. Joining them will be Mr. Ron Morrison, of Dartmouth, who has benefited from the use of Neuragen. He is literally a 'walking' testimonial.
You can read more about Neuragen at:
Munchies at 2:00 pm
followed by:
Introductions
Open Discussion - Various Topics
&
What's New?

Our National Website Has Been Published!!
Insulin Pumpers Canada announces the birth of its National Website at
http://www.insulin-pumpers.ca
We hope to use this valuable communications tool to link people together from across Canada. Check us out!!
This could not have been done without the support of our wonderful friends at Insulin Pumpers Org.
http://www.insulin-pumpers.org
, the grandaddy of all pumping websites. Thank you Michael and the gang :)

*NEW*
Children's Medication Reminder Watch
The e-pill MeDose "Pediatric" is a nicely designed medication reminder watch (vibration or sound), that looks like a normal youth watch; it shows real time, day-date, month, has a count-down/up timer,
You can check out this new item at
It will be available from our friends at Diabeaters in the upcoming months :) http://www.diabeaters.com

*NEWS* Jill Milliken Confronts Ontario Premier Ernie Eves on Funding for DM and Pumps!
Find out what is going on in other parts of the country - check the link on our National Website

*NEW* NEURAGEN RL
Natural Treatment for Neuropathic Pain
Finally, a natural topical treatment that works for severe, disabling pain - the result of over 10 years of research.

This product is available in Canada.

*NEW* S.U.G.A.R.
S.U.G.A.R. is a Canadian based charitable organization that helps place insulin pumps with qualified applicants.
S.U.G.A.R. is looking for the following:
volunteers who would be willing to sit on the executive board in the Hamilton Burlington area.
volunteers who would be willing to work on committee projects in any area, especially Hamilton Burlington.
People who are interested (groups) in assisting in the National picture by opening or running satellite offices of S.U.G.A.R. in their particular area.
Contact tathomson@cogeco.ca

*NEW WEBSITE*
Novo Nordisk Canada Inc. is the Canadian affiliate of Novo Nordisk A/S, with its headquarters in Denmark.
Novo Nordisk is a world leader in insulin and diabetes care, and also manufactures and markets a variety of other pharmaceutical products worldwide.
Check out their new Canadian Website at:

*UPDATE*- The next DIG meeting will be on June 23rd. A representative of Novolin will be speaking about their new insulin NovoRapid. An informal "back to school" discussion will be included as well.
Diabetes Information Group - For Parents
D.I.G.
Diabetes Information Group
(For Parents)
Join us bi-monthly for an opportunity to meet other families living with Type 1 Diabetes. Held at Sobey's in Clayton Park. Halifax, N.S. Refreshments and snacks provided.
For more information please contact:
Christina MacDonald 443-4841
May News
Hello everyone. We just want to keep you up to date. It seems that Dextrosol is making its way back into stores, it has been spotted at the Superstore Pharmacy in Spryfield and at Shopper's Drug Mart in Lwr. Sackville, However, many pharmacies will tell you that it is on back order, so keep your eyes open!
We attempted to have someone from the School Board come and speak to our group but instead they provided us with a copy of their medication policy and they told us that all diabetes concerns could be directed to the student services supervisor at each individual school. If anyone
would like a copy of the medication policy, you can check with you local school or you can contact Christina (443-4841) and we will try to get it to you.
UPCOMING EVENTS / MEETINGS MAY
We are not having a formal meeting in May but we will be meeting for coffee at Second Cup in Bayer's Lake on May 6th at 7:00 pm for anyone who is interested.
JUNE
The Juvenile Diabetes Research Foundation's WALK TO CURE DIABETES will be taking place on June 8, 2003 at the Halifax Commons. The walk starts at 10:00 am, with registration taking place beforehand. For more
information and pledge forms contact Rhonda MacDonald at JDRF at 453-1009 or by e-mail at
halifax@jdrf.ca
. We hope to see many of our family teams there!
We will not be having a DIG meeting in June due to the Walk, however we will resume in September. Don't forget to contact us with any ideas you may have for future topics. Have a great summer!
Sincerely,
Susan & Christina

Insulin Pumper's Expo 2003

Was it a success? YOU BETCHA!! More than 160 people visited us in just over 4 hours, many of them staying most of the afternoon. We hope those of you who did join us managed to get all the information you could. One stop diabetes info/pump shopping/people connecting.
Many thanks to Lawtons Drugs/Sobeys Pharmacy for their sponsorship and support. Thank you to the Pharmacy Association of Nova Scotia for getting the word out across the province. Thank you to all the companies who proudly displayed their wares or services and the individuals and businesses who provided items for door prizes and ticket sales. A special BIG HUG for all the terrific volunteers who spent months planning this event and those who gave up their day to help us pull it off. THANK YOU!
Will we do it again? YOU BETCHA!! More information to come in the upcoming months.
The Winner of the $200 Professional Draw Gift Certificate compliments of Diabeaters was: Paula Soper - CONGRATULATIONS!
Tickets are still on sale for the beautiful Kingfisher painting, the Coke Calendar, and the Quilt. They can be purchased at our next meeting, on June 15th. The lucky winners will be chosen on that day as well.

Dextrosol - Check Out Your Pharmacy
We have been receiving word that Dextrosol has been seen on shelves of local pharmacies. That is great news for those of us who have been bringing in glucose tabs from the U.S.
Check it out and let us know!!

Canadian Diabetes Association - Nova Scotia Region

What is going on at the CDA in the months to come?
Check out the link below to their upcoming events page. You will be glad you did!


The Juvenile Diabetes Research Foundation's WALK TO CURE DIABETES will be taking place on June 8, 2003 at the Halifax Commons. The walk starts at 10:00 am, with registration taking place beforehand. For more
information and pledge forms contact Rhonda MacDonald at JDRF at 453-1009 or by e-mail at
halifax@jdrf.ca
.

Advanced Pumping
Do you wish you knew a little more about pump therapy than you do now? Have you tried to get a copy of Pumping Insulin and you haven't been successful? Then you might want to take a look at this!
John Walsh, co-author of Pumping Insulin has a terrific slide show for you to view at the Diabetes.net.com website. Hit the link below to get some expert advice and go back to 'pumping school'.

Pumping Insulin 3rd Edition, also known as the Pumper's bible is available for you to borrow!
Insulin Pumpers Canada - Nova Scotia Division has now donated 6 copies of this terrific book to the Nova Scotia Provincial Library. Copies of Pumping Insulin are in circulation at Halifax Regional Library, Cape Breton Regional Library, Western Counties Regional Library, Annapolis Valley Regional Library, Colchester-East Hants Regional Library, and South Shore Regional Library. Not sure which district you are in? Check out the map below.
N.S. Regional Libraries - Where People Connect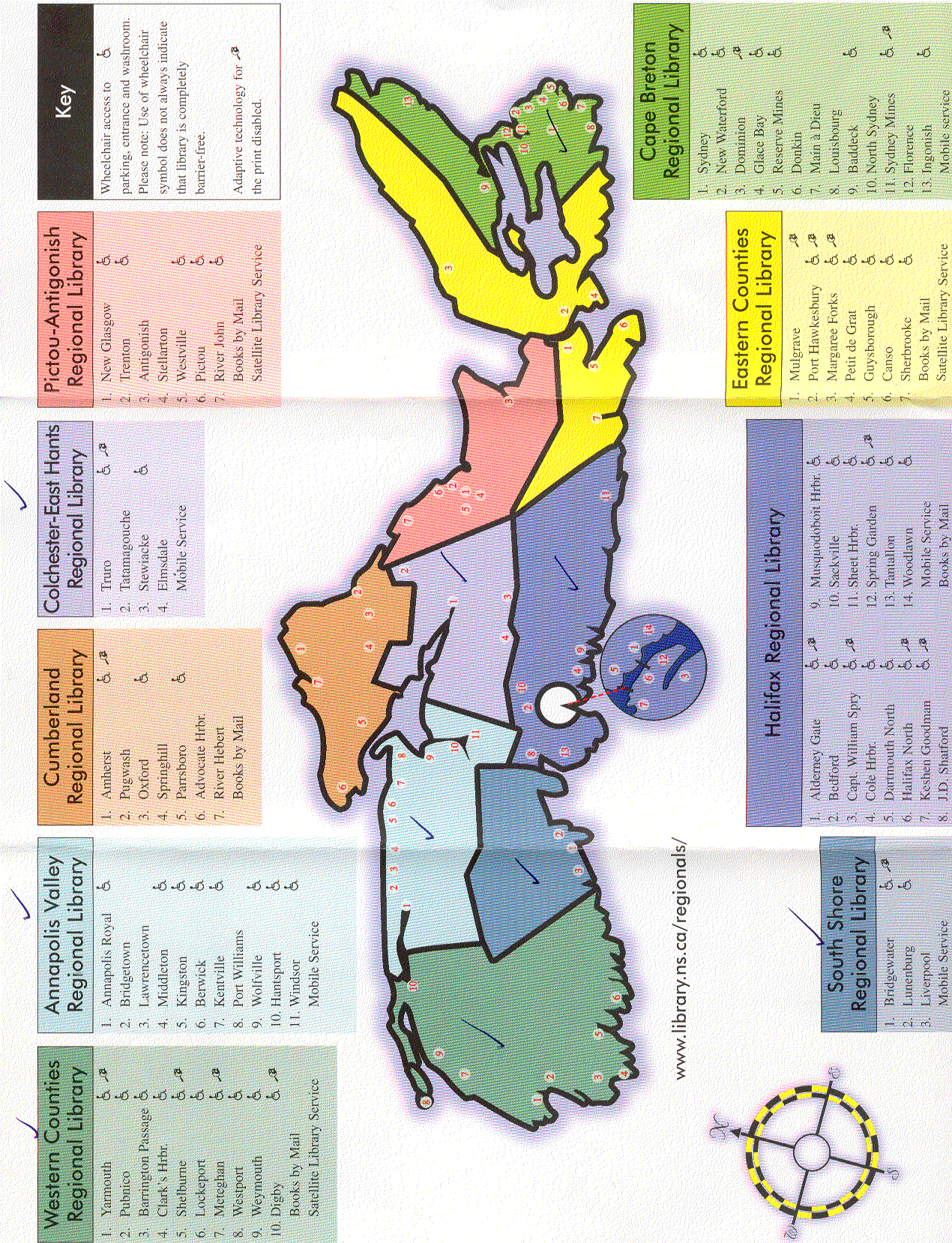 Would You Like A Brochure?
Insulin Pumpers Canada - Nova Scotia Division, has developed a brochure which is now available. If you wish to receive copies of our brochure for your own information, your clinic, your doctor, your patients, or clients, or any bulletin board you would like to post it on :) please contact Barb Chafe at 865-9129 to place your *FREE* order.
You can download and print the brochure by clicking on:


We don't have confirmed times/dates/venues for the following, so you'll have to check out the newsletter from time to time and/or read your email to keep up!
If all our wishes come true there will be ......
(Summer) Pumping Information Panel for the general public compliments of IPC-NSDivision and the Sydney branch of the Canadian Diabetes Association.
(Sept.) Insulin Pumpers Expo 2003- Valley Area -compliments of the Pharmacy Association of Nova Scotia and IPC-NSDivision.
(Fall) Advanced Pumping Class for parents & children
(Fall/Winter) Advanced Pumping Class for adults
(Fall)A Canadian Pumpers Chat Room through our National Website - with special guests!
Have you registered with us yet to be put on our group emailing list? If you wish to be kept updated via email about special events, contact Barb Chafe at BarbChafe@ns.sympatico.ca

Pump Company Representatives Who Cover Eastern Canada
Disetronic Medical Systems - Melany Hellstern, (506) 454-6940 and 1-800-280-7801 Extension #5622

Previous Newsletters - Click Here To Browse
Do you have a support group that you would like to advertise? Drop me a line and I will put it in the next newsletter and send information out to all the members of our database.
THANK YOU!!
To the various businesses and organizations who show their support in so many different ways, we offer a huge THANK YOU!! You are helping people to change their lives :)
To Our Sponsors:
Auto Control Medical (Animas)
Disetronic Medical Systems
Medtronic Minimed Canada
Smiths Medical Canada Ltd. (Cozmo)
Lawtons Drugs/Sobeys Pharmacy
To Our Supporters:
Insulin Pumpers Org http://www.insulin-pumpers.org
The Canadian Diabetes Association - Nova Scotia Division
JDRF
Shoppers Drug Mart
Diabetes Care Program of Nova Scotia
Lawtons Drugs - Diabetes Care In Action Newsletter
KWD Magazine For Kids With Diabetes - Bayer
Chapters - Bayers Lake
Sackville Sports Stadium
Kennebecasis Drugs, N.B
Diabeaters.
Pharmacy Association of Nova Scotia
All our WEB FRIENDS who offer links to IPC-NS Division Sorry we can't list you all!!